What is nuclear medicine?
Nuclear medicine is a medical specialty that uses radioactive tracers (radiopharmaceuticals) to assess bodily functions and to diagnose and treat disease. Specially designed cameras allow doctors to track the path of these radioactive tracers. Single Photon Emission Computed Tomography or SPECT and Positron Emission Tomography or PET scans are the two most common imaging modalities in nuclear medicine.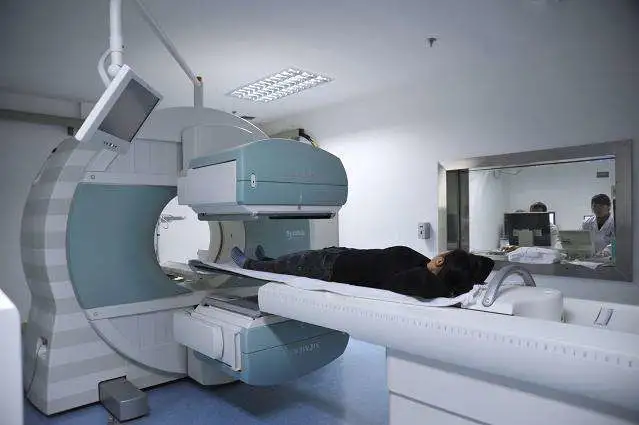 核医学是一门利用放射性示踪剂(放射性药物)来评估身体功能、诊断和治疗疾病的医学专业。特别设计的照相机可以让医生追踪这些放射性示踪剂的路径。单光子发射计算机断层成像技术(SPECT)和正电子发射断层成像技术(PET)是核医学中最常见的两种成像方式。
What is nuclear medicine used for?
Nuclear medicine procedures are used in diagnosing and treating certain illnesses. These procedures use radioactive materials called radiopharmaceuticals. Examples of diseases treated with nuclear medicine procedures are hyperthyroidism, thyroid cancer, lymphomas, and bone pain from some types of cancer.
核医学用于诊断和治疗某些疾病。核医学使用被称为放射性药物的放射性物质。用核医学方法治疗的疾病有甲亢、甲状腺癌、淋巴瘤和某些癌症引起的骨痛。
Is a nuclear medicine Specialist a doctor?
Nuclear medicine radiologists, also called nuclear radiologists, are physicians who use radioactive materials, called radiopharmaceuticals, to diagnose and treat disease. They employ such techniques as scintigraphy, which uses radiopharmaceuticals to produce images of the body's organs or to visualize certain diseases.
核医学放射科医生,也叫核放射科医生,是使用放射性物质(称为放射性药物)诊断和治疗疾病的医生。他们使用诸如闪烁扫描术这样的技术,这种技术使用放射性药物来产生身体器官的图像或对某些病变进行可视化。
Is Nuclear Medicine dangerous?
Very low risk. Because only a small dose of radiotracer is used, nuclear medicine exams have a relatively low radiation exposure. This is acceptable for diagnostic exams. Thus, the radiation risk is very low when compared with the potential benefits.
有一定的风险。因为只使用小剂量的放射性示踪剂,核医学检查的辐照相对较低。这对于诊断检查是可以接受的。因此,与潜在效益相比,辐射风险非常低。
What tests are done in nuclear medicine?
A nuclear medicine test uses small amounts of a special liquid known as a radiopharmaceutical to look at and to treat diseases. Nuclear medicine tests are safe and give doctors pictures of the human body using a special camera. Other radiology tests, such as MRI and CT scans, take detailed pictures of the body.
核医学检查使用少量被称为放射性药物的特殊液体来观察和治疗疾病。核医学测试是安全的,可以用特殊的照相机为医生"拍出"人体的照片。其他的放射学检查,如核磁共振和CT扫描,可以"拍出"细节更为丰富的人体照片。
What are nuclear medicine scans used for?
SPECT scans are primarily used to diagnose and track the progression of heart disease, such as blocked coronary arteries. There are also radiotracers to detect disorders in bone, gall bladder disease and intestinal bleeding. SPECT agents have recently become available for aiding in the diagnosis of Parkinson's disease in the brain, and distinguishing this malady from other anatomically-related movement disorders and dementias.
SPECT扫描主要用于诊断和跟踪心脏病的进展,如冠状动脉阻塞。也有放射性示踪剂来检测骨骼疾病,胆囊疾病和肠出血。SPECT试剂最近已成为一种有助于诊断帕金森氏症的大脑,并将这种疾病与其他解剖相关的运动障碍和痴呆症区分开来。
The major purpose of PET scans is to detect cancer and monitor its progression, response to treatment, and to detect metastases. Glucose utilization depends on the intensity of cellular and tissue activity so it is greatly increased in rapidly dividing cancer cells. In fact, the degree of aggressiveness for most cancers is roughly paralleled by their rate of glucose utilization. In the last 15 years, slightly modified radiolabeled glucose molecules (F-18 labeled deoxyglucose or FDG) have been shown to be the best available tracer for detecting cancer and its metastatic spread in the body.
PET扫描的主要目的是检测癌症并监测其进展、对治疗的反馈以及检测转移。葡萄糖利用率取决于细胞和组织活动的强度,因此在癌细胞快速分裂过程中,葡萄糖的利用率大大提高。事实上,葡萄糖的利用率与癌症的侵袭性大致相当。在过去的15年里,稍微修饰的放射性标记葡萄糖分子(F-18标记脱氧葡萄糖或FDG)被证明是检测癌症及其在体内转移扩散的最好的示踪剂。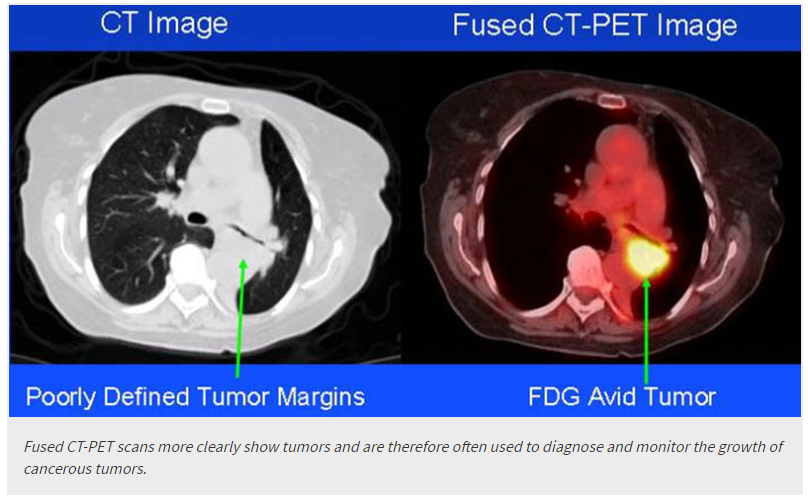 A combination instrument that produces both PET and CT scans of the same body regions in one examination (PET/CT scanner) has become the primary imaging tool for the staging of most cancers worldwide.
一种能在一次检查中同时对同一身体区域进行PET和CT扫描的组合仪器(PET/CT扫描仪)已成为全球大多数癌症分期的主要成像工具。
Recently, a PET probe was approved by the FDA to aid in the accurate diagnosis of Alzheimer's disease, which previously could be diagnosed with accuracy only after a patient's death. In the absence of this PET imaging test, Alzheimer's disease can be difficult to distinguish from vascular dementia or other forms of dementia that affect older people.
最近,FDA批准了一种PET探针来帮助准确诊断阿尔茨海默病,以前只有在病人死后才能准确诊断。在没有这种PET成像测试的情况下,阿尔茨海默病很难与血管性痴呆或其他影响老年人的痴呆症区分开来。
REFERENCES:
https://www.nibib.nih.gov/science-education/science-topics/nuclear-medicine
Writer: Jayeola Mathew(Harbin Engineering University)
Editor: Priscilla Oforiwaa
Designers: Zhang Jing & Zhang Chao
Translation : Zhang Chao